Welcome! Listen or download our music for free and learn more about us and our concerts by using the navigation bar above.
"Speak to one another with psalms, hymns and spiritual songs.
Sing and make music in your heart to the Lord." Ephesians 5:19
We as a musical family have allegiance to a biblical faith, first, last, and always. By that, we hold that the the Bible alone and its entirety is the word of God written and inerrant in the autographs. The theme of the Bible is God's salvation through Jesus Christ whom he has declared to be Lord by raising him from the dead.
Wonderful Jesus (PDF) by Dr. William G. MacDonald.
Note to IE users, older versions of IE do not seem to work correctly with our website. Try upgrading versions, or download Chrome or Firefox.
A poster is available for your church or venue in PDF format.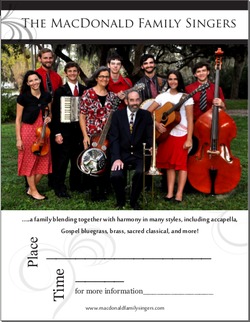 Click here to download or print poster.
A hand bill with your church information available on request (example).
---